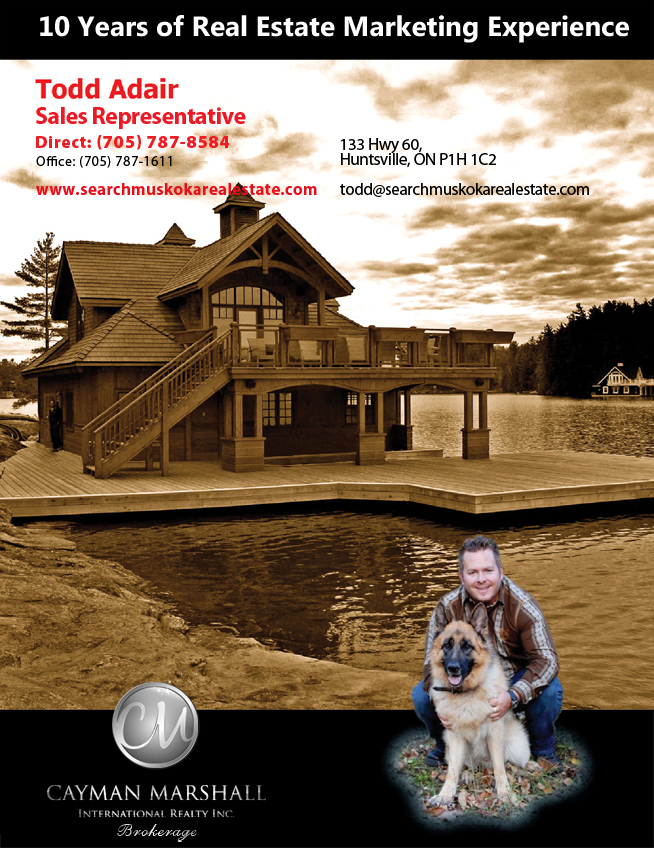 What makes a good Lake Joseph real estate listing agent
Waterfront Knowledge

Todd was born in Muskoka and has always called it "home".
He knows the lakes in this area better than anyone and will be an essential resource in
your search for Muskoka waterfront.


Market Experience

Todd has over 10 years of experience in the real estate market. He constantly has his finger on th'e pulse of the market so he can give you the best information on what's happening in the Muskoka market.He really is your best choice if you want to get the most bang for your buck!
About Lake Joseph Real Estate
We appreciate your visit to the newest and most dynamic Lake Joseph real estate site available for the greater Muskoka area. LakeJosephRealEstate.com will provide users with an easy to use method of searching all available listings for personal properties from single family homes to Lake Joseph Estates. Whether you are buying or selling your home, or residential property our listings will improve your knowledge base of the area and help you attain much needed information about current market conditions. This will save you money on purchasing a home, or generate more income on the sale of your home/cottage.

Bringing all these feature together in one place will make it easier than ever before to find the property of your dreams. Instead of wasting countless hours reading newspapers, online classifieds and calling real estate agents, let the Lake Joseph Real Estate website do it for you! Our extensive network of buyers and sellers will guarantee that you will find the deal you are looking for and be as happy as possible with the outcome of your real estate experience.

Our highly advanced proprietary software is continually being upgraded and refined to provide you with the best user experienc.

Happy house and cottage searching on Lake Joe!!!
Welcome to Lake Joseph! Welcome to the beauty of Muskoka! Be my guest. Please feel free to explore all of the magnificent cottages, estates and homes available on "Lake Joe".
Looking for a little slice of a heavenly retreat? Lake Joseph real estate, located just two hours north of Toronto, can provide the ultimate experience for rest, relaxation and rejuvenation for short term or permanent residents. Just imagine yourself in a place equipped with beautiful accommodations, stunning views, blue skies and visibly breathtaking sunsets. Can you see yourself in a place of complete tranquility, with your own personal day or night spa surrounded by true nature and its elements? Just think, clear water, great fishing, supreme boating and alluring homes, all for you. Lake Joseph real estate is the diamond you've been searching for, sporting million dollar Lake Joseph cottages and properties with many all inclusive amenities. Who are we kidding? Forget the slice. The sky is the limit. You deserve it all.

Make no mistake; a cottage listed with Lake Joseph real estate is not your normal cottage. They are called Lake Joseph cottages but are not considered to be modest dwellings. These homes are spectacular and they speak to everything you are and everything you desire. Outfitted with multiple bedrooms and bathrooms as well as a plethora of stone fireplaces, wooden floors and cathedral ceilings these waterfront homes boast swim coves, tennis courts, boathouses, cliff-side spas and guest houses. Each property has its own quintessential uniqueness. The boathouses, some with over-sized slips include living areas above and other properties have family compounds. Some Lake Joseph cottages also have summer and winter dining rooms and wrap around verandas. Amenities aside, the spectacular views and outside areas may persuade you to purchase a piece of lakefront property and build a cottage to your specifications. At present, Lake Joseph cottages range in price but are usually priced on the higher end. These cottages are prime real estate and can easily sell for many millions of dollars. A piece of shoreline property less than 500ft may cost a million dollars. Other Lake Joseph cottages were built through the Pan Abode process using western red cedar, designed by experts, then shipped and assembled on site. Pan Abodes are designed to minimize heat loss and withstand the coldest of climates.
There are other alternatives to Lake Joseph Cottage living for those who feel that economic decline prevents purchasing outright one of these beautiful properties. Many high end Lake Joseph cottages can be rented for yearly vacations or purchased via fractional ownership. Some cottages can be rented on a weekly basis of around $2,000 to $6,000 a week based on the accommodations and the seasonal status. For example, a 6 bedroom cottage that sleeps 12 may cost $4500 weekly in season or $3,000 weekly in the off season. These kinds of properties are individually owned and operated and prices are subject to change. Fractional ownership, however, is different. With this option, you have the choice of owning part of a luxury vacation home for a few weeks out of the year. Essentially, you purchase only what you will use. Should you choose to allow your friends and family to use your property without being accompanied by you during the time it is scheduled for your use, you are able to do so and they will enjoy the same amenities as you, the primary client.

Lake Joseph real estate is not the only hot topic in this area. Lake Joseph is one of three big lakes in Muskoka, Ontario, Canada. When you want to take a break from all of the seclusion and see what others are doing, there are many different options. Muskoka is rich in history and culture and there are many places to see and experience in this area. Many of the permanent residents are very talented artisans, musicians and craftsmen. There are photography, pottery and art galleries as well as the ability to become knowledgeable in the making of candles and fuse glass design. Of course, fishing is a primary source of entertainment and recreation for those who love the sport and the fishing species in these parts are Walleye and Northern Pike. Other activities include, golf, water-skiing, rock climbing, tasting the fabulous cuisine, swimming, hiking, canoeing and even boat cruises. There is something for everyone and these various activities only add to the attraction of Lake Joseph real estate.

By now, you should have a graphic visual of Lake Joseph real estate. It's not an unattainable dream or a fairy tale and it's certainly available to those that feel it's a good fit for their families. It's for real. It's the kind of picturesque scene that we see on the covers or inside pages of home and garden or travel magazines. It is a place meant to soothe your soul, renew your spirit and contribute to good wholesome living. So I guess the question is, what are you waiting for?
Todd Adair, Sales Representative
Cayman Marshall International Realty Inc., Brokerage
133 Hwy 60, Huntsville, Ontario
P1H 1C2
Office: (705) 787-1611


Direct: (705) 787-8584