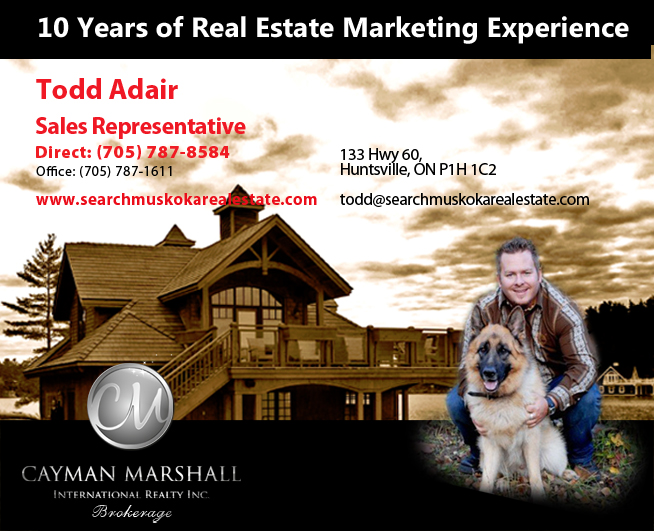 Selling Your Property
Prepare Your Home For The Market in Muskoka
Six Essential Steps
1.Make cosmetic improvements.
An attractive, clean and tidy appearance will enhance your home's appeal.
•Keep the lawn mowed & walks cleared
•Wash the windows squeeky clean
•Open the shades and curtains to create a bright, inviting atmosphere
•Declutter the house, especially the kitchen and bathrooms
2.Pay attention to details.
Fixing the minor items can go a long way toward improving that important first impression:
•Repair leaky faucets
•Tighten loose door knobs
•Replace damaged screens
•Replace broken panes of glass - cloudy sealed-pane units can often be replaced inexpensively, and will drastically improve the appearance of a window or patio door.
•Replace burned-out light bulbs & broken light fixtures
•Secure loose railings
•Patch small holes in walls and ceilings and repaint
•Repair or replace faded or peeling wallpaper
•Repair and coat the driveway
3.Make maintenance improvements.
The maintenance improvements listed below are relatively easy and inexpensive to make, yet can substantially improve a home's appearance (value), efficiency and comfort.
•Trim trees and shrubs
•Apply new caulking and weatherstripping as needed around windows and doors
•Clean gutters of debris and leaves, repair or replace cracked or broken gutters, downspouts and extensions to ensure proper drainage
•Replace bathroom caulk or grout where necessary
•Ventilate & dehumidify closed basements and crawl spaces
•Grade soil around the house to prevent ponding of water next to the foundation
•Replace dirty filters in the heating and ventilating systems
•Have the heating, ventilating and air-conditioning systems professionally serviced
•Have chimneys professionally cleaned & inspected
4.Take safety precautions.
Protect your home and its occupants from danger.
Good ideas that create a great impression:
•Install quality smoke detectors
•Install quality carbon-monoxide detector
•Ensure adequate outdoor lighting shows off house too
•'GFCI' outlets outdoors and in wet locations such a bath & laundry areas
•Keep the stairwells tidy and free of debris and obstructions including around
•the electrical panel and furnace
•Keep flammables and combustibles away from the furnace and other utility areas
•If you have direct entry from the garage to the interior of the home, consider installing a hydraulic or other form of auto-closure device on the door.
•Check the tension on garage doors
5.Check the major systems.
A primary concern for home buyer's is the condition of the basic structure and major mechanical systems. Most buyers have great fear of the cost to repair these critical areas:
•Roof structure and covering
•Foundation, basement, and/or crawl space
•Central heating and air conditioning systems
•Electrical system
•Plumbing system
6.Prepare for the buyer's inspection.
Find the various house records that can be used to answer questions from the purchaser and their inspector:
•Appliance receipts, service records and warranties
•Age of major components such as the roof, furnace, air-conditioner, etc.
•Major component warranties
•Heating, water and electric bills from at least the past 12 months

I can't imagine why you'd ever want to sell but I can help!
Welcome to my selling portion of Lakejosephrealestate.com.
Here you'll find resources to assist you with all your Lake Joseph needs. Whether you are a first time home or cottage seller or an experienced seller looking to turn a profit on an investment property, we can provide you with comprehensive waterfront real estate solutions.
My website allows you to search for current Lake Joeseph listings and receive detailed descriptions and photographs and that will help you get an idea of what your cottage might be worth. The next step is to fill out the Free Cottage/Home Evaluation and I'll do a free estimate of worth on your property.
Click "
Here
" to get yours today.